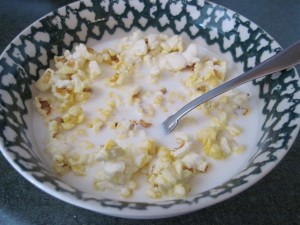 Mmm, popcorn in milk.
It's about the end of my guest run here, and it's time to wrap things up for the next guest correspondent.
I've been following the fun over at Tinkering School through the daily blog. How about you? Take a peek at the daily diary here. Wish I was there!
While searching the web for references to 50 DT, I discovered a wonderful blog by Keith Rispin called, "Parenting Old School – Age old parenting in a New Age World." The little girl wielding the axe on the homepage definitely caught my eye! Take a read and see what you think about Mr. Rispin's parenting philosophy.
If you're looking for a bit of humor/levity, check out the reference to "50 DT" on the blog post called, "Head Nurse – Brain on the Top, Spine down the back." The blogger indicates that she has a male friend who just found out that he's going to have a baby, and it's a girl. She intends to buy a copy of "Fifty Dangerous Things (You Should Let Your Child Do)" and a sawed-off shotgun as baby shower presents." Seems just about right to me.
I wish you great adventures in your pursuit of 50+ dangerous things. Enjoy your children now…the days are long, but the years are short.
Thanks for the opportunity, Gever. It's been a blast!